Astros' bats come to life in Game 1 victory over Athletics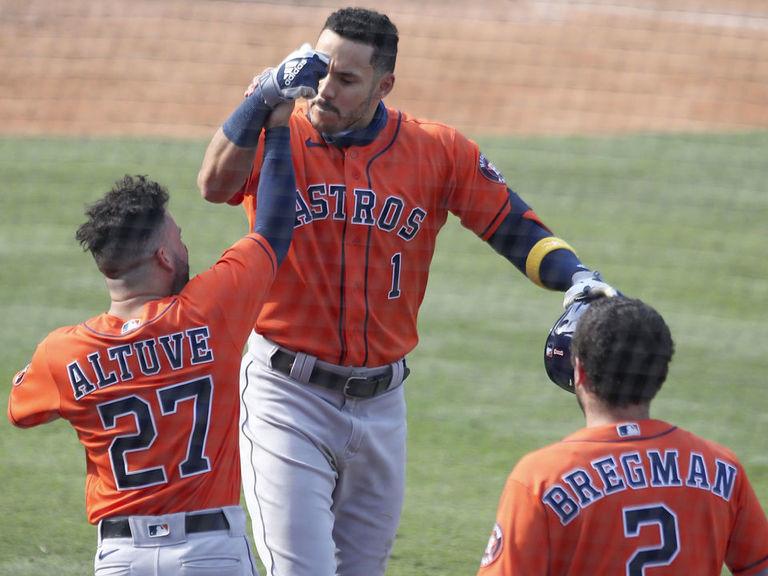 The Houston Astros got the divisional round started Monday, thumping the Oakland Athletics 10-5 in Game 1 of their best-of-five American League Division Series at Dodger Stadium.
Carlos Correa hit a pair of home runs in the victory, while Alex Bregman also went yard.
"You can't judge this offense by 60 games," Correa added following the game, according to The Associated Press. The Astros were one of two teams to qualify for the postseason despite a losing record. The Milwaukee Brewers, the only other club with a 29-31 record to make the playoffs, were swept in the first round by the Los Angeles Dodgers.
After Lance McCullers Jr. was knocked around in his start, allowing five runs – including four earned and three homers – on eight hits and one walk over four innings pitched, the Houston bullpen shut down Oakland's offense completely. Blake Taylor, who earned the win as the first reliever out of the bullpen, combined with Enoli Paredes, Cristian Javier, and Ryan Pressly to throw five hitless innings.
It was a back-and-forth affair between the division rivals until the top of the sixth inning when the Astros tacked on four runs following a two-out error from Marcus Semien. None of the runs were charged as earned to J.B. Wendelken, who was tagged with the loss and blown save.
Houston is still undefeated in the playoffs after sweeping the Minnesota Twins in their best-of-three wild-card series; Oakland's set against the Chicago White Sox went to a decisive Game 3 after the A's lost the opening contest.
Game 2 is slated for Tuesday at 4:37 p.m. ET at Dodger Stadium, with the Athletics still acting as the home team. The Astros will send Framber Valdez to the mound to face Athletics left-hander Sean Manaea.