Browns hold off Cowboys, move to 3-1 for 1st time since 2001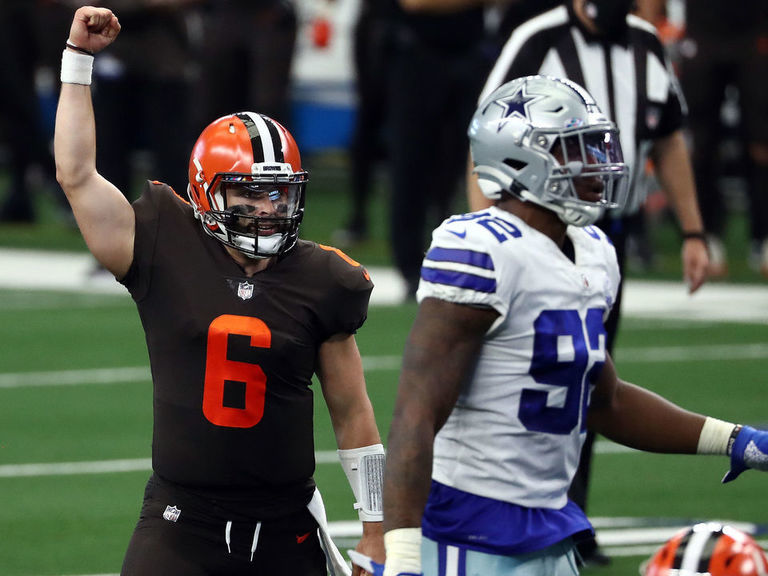 The Cleveland Browns held on for a 49-38 win in Week 4 over the Dallas Cowboys to improve to 3-1 for the first time since 2001.
Cleveland gashed its NFC opponent for 307 rushing yards and punched in three touchdowns despite losing Nick Chubb to a knee injury in the first quarter.
Dallas dropped to 1-3 with the loss.
When the media asked Baker Mayfield afterward if he knew the last time Cleveland was 3-1, the Browns quarterback told the FOX broadcast he didn't.
"No, and I don't really care," he said. "It's 2020, and we're moving on to the next one.
The Browns came out firing offensively, scoring on their first series with Jarvis Landry's 37-yard pass to Odell Beckham Jr. on a trick play. Beckham found the end zone twice more through the afternoon and delivered the ultimate dagger on a 50-yard touchdown rush with 3:25 left in the game.
Beckham's final highlight halted a 24-point run from the Cowboys, who had cut a 41-14 deficit to 41-38 late in the fourth quarter.
"Odell was making plays all day," said Mayfield, who passed for 165 yards and two touchdowns, according to Nate Ulrich of the Akron Beacon Journal.
Cowboys quarterback Dak Prescott threw for a season-high 502 yards with four touchdowns and now has at least 450 yards in three straight outings. But he also committed two of three Cowboys turnovers against the Browns – Ezekiel Elliott had the other.
Dallas has given up 42 points per game over the last three weeks. The Cowboys would be 0-4 if not for an improbable comeback against the Atlanta Falcons in Week 2.
"What I don't like is the pattern of the four games," said head coach Mike McCarthy, via the Dallas Morning News' Jon Machota. "The points are outrageous, time of possession is totally lopsided, and we're minus-7 in the turnover ratio. Not a winning formula."
Cowboys edge rusher DeMarcus Lawrence has labeled the defense's latest performance "soft," adding "we have to hold ourselves to a higher standard."