Browns' Stefanski: Mayfield removed late in blowout loss to protect him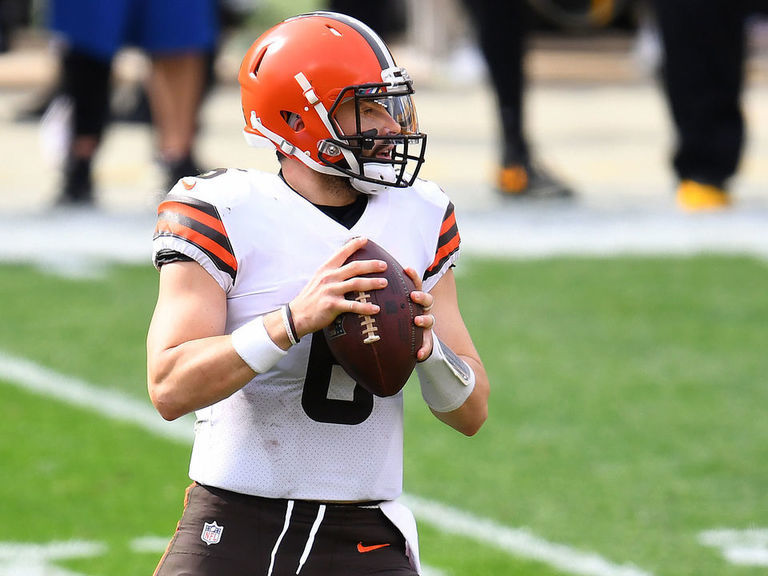 The Cleveland Browns replaced quarterback Baker Mayfield with Case Keenum while down 31-7 to the Pittsburgh Steelers entering the fourth quarter.
Mayfield went into Sunday's game with a rib injury and was questionable to play.
Browns head coach Kevin Stefanski said postgame that the move was done to protect his franchise passer.
"I didn't want to see (Baker) get hit one more time. It starts with me," said Stefanski, according to Mary Kay Cabot of Cleveland.com. "I didn't think it was the right thing to put him back out there"
The head coach added that Mayfield will start next week against the Cincinnati Bengals if healthy.
The 2018 No. 1 pick went 10-of-18 passing for 119 yards and one touchdown against two interceptions before being pulled.
Mayfield had taken four sacks, with the Steelers' front seven dominating the Browns' offensive line.
"Oh, yeah. Mama didn't raise no wuss," the quarterback said Monday when asked about potentially playing through the injury.
Keenum previously worked with Browns head coach Kevin Stefanski while the two were with the Minnesota Vikings. He joined Cleveland this offseason.
Mayfield led the Browns to a 4-1 record to start the campaign, throwing nine touchdowns versus just four interceptions. But Cleveland is now facing an uphill battle to catch the undefeated Steelers in the race for the AFC North.