Prescott dealt with anxiety, depression after brother's suicide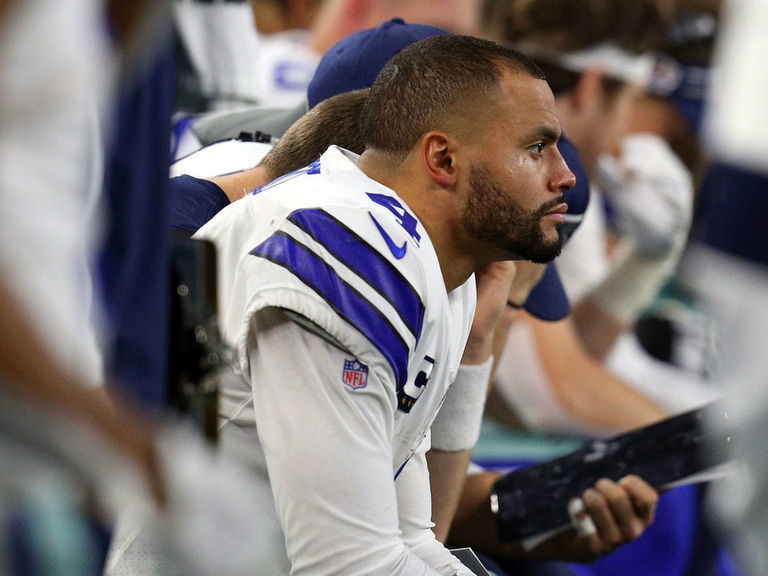 Dallas Cowboys quarterback Dak Prescott got help this offseason after experiencing anxiety and depression in the wake of his older brother Jace's death and the coronavirus pandemic.
"When you have thoughts that you've never had, I think that's more so than anything a chance to realize it and recognize it, to be vulnerable about it," Prescott said, according to ESPN's Todd Archer.
He added, "I think being open about it and not holding those feelings in was one of the better things for me."
Prescott revealed on "In Depth with Graham Bensinger" that his brother died by suicide. He said Jace carried a heavy burden as the primary caregiver for their mother, Peggy, as she received treatment for colon cancer while Dak attended school at Mississippi State.
"Jace at the time was finishing with school and was home, was with her, and watched it," Dak said. "She couldn't necessarily hide it from Jace because he was there every day. He saw the times where she would have to spend probably 10-plus hours throwing up, this and that, and saw the medicine she had to take."
Peggy died in 2013, and Dak said the death of his mother impacted him and his two brothers, Jace and Tad, immensely.
Dak saw Jace three days before his death in April and thought everything seemed fine.
"I mean, obviously tears and tears and tears," Prescott said of learning of his brother's death. "I mean, I sat there and tried to gather what had happened, and wanted to ask why for so many reasons … and as much as you want to ask why as much as this, I mean, I know my brother, and as we said, he had a lot of burdens on him."
Prescott told Archer that he shared his feelings with close friends, current and former teammates, and a sports psychologist.
The quarterback also revealed how the coronavirus pandemic affected him.
"I'm a people person. I'm somebody that likes to be around people. I like to inspire. I like to put a smile on people's faces, day in and day out, and I like to lead," Prescott said. "When that's taken away from you simply because you're forced to quarantine and not be around people and get around people as much as you would like to, yeah, it's tough."